DELBROOK RESOURCE OPPORTUNITIES FUND 

The Delbrook Resource Opportunities Fund (the "Fund") is open to accredited Canadian investors only. 



Fund Details
Performance as of March 30th, 2018

INCEPTION DATE:


STRUCTURE:


CURRENCY:


SUBSCRIPTIONS:


REDEMPTIONS:


VALUATION:


VALUATION AGENT:


FUND AUDITOR:


PRIME BROKER & CUSTODIAN:​

WARRANTY VALUE PER UNIT,

EXCL. IN NAV (4):

MANAGEMENT FEE:

​

$16.2345

$15.7798

$1.7977

A: 2.0%

F: 1.5%

​

20% of amount exceeding
perpetual high water mark

F: $100,000

DCA100(A)

Resource Growth
December 2013

Trust, RSP Eligible ​

Canadian Dollars

Monthly

Monthly, 60 Day Notice

Monthly

Pinnacle Canada Fund Services Ltd.

KPMG LLP

CIBC World Markets

Computershare Trust Co. ​

Performance & Fund Information(1)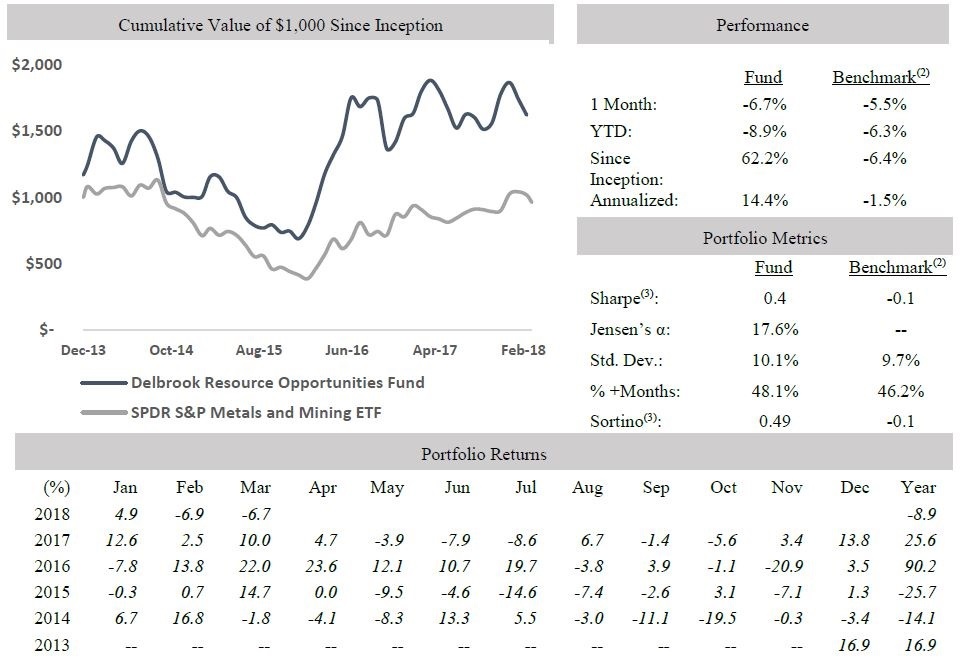 (1) Performance net of all fees and distributions
(2) Benchmark:  SPDR S&P Metals and Mining ETF, total return basis
(3) Sharpe Ratio assumes risk-free rate of 2.0%
(4) Calculated using Black-Scholes option pricing model
DISCLAIMER:

WHILE INFORMATION IS ACCURATE AS AT THE DATE NOTED, HOLDINGS AND ASSET MIX WILL CHANGE. THE CUMULATIVE PERFORMANCE SINCE INCEPTION ASSUMES $1,000 INVESTED IN CLASS A UNITS OF THE FUND AND DOES NOT TAKE INTO ACCOUNT SALES, REDEMPTION, DISTRIBUTION OR OPTIONAL CHARGES OR INCOME TAXES PAYABLE BY ANY SECURITY HOLDER THAT WOULD HAVE REDUCED RETURNS. PERFORMANCE DATA REPRESENTS PAST PERFORMANCE AND IS NOT INDICATIVE OF FUTURE PERFORMANCE. COMPARATIVE INDEX DATA IS PROVIDED SOLELY FOR ILLUSTRATIVE PURPOSES. FUTURE PERFORMANCE OF THE FUND MAY BE SIGNIFICANTLY DIFFERENT FROM PAST AND FUTURE PERFORMANCE OF THE INDEX OR INDEXES NOTED. THIS DOCUMENT SHOULD NOT BE CONSIDERED A SOLICITATION.